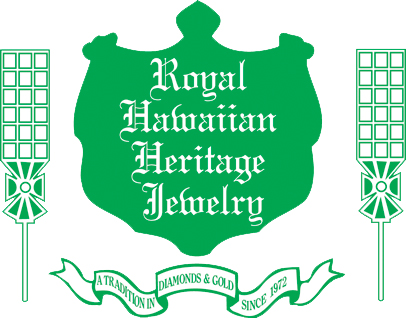 Aloha and welcome to RHHJ.com, a division of Royal Hawaiian Heritage Jewelry. For 35 years our Kamaaina (local) company has been specializing in hand engraved Traditional Hawaiian Jewelry. Our traditional designs incorporate the symbols of Hawaiian culture; the plumeria, the hibiscus and the maile
Hawaii's luscious tropical bamboo forests, gardens of blooming roses, endangered sea turtles and the graceful dolphins, have inspired our master engravers to create a growing collection of exclusive Premium Designs.
Since 1972, Royal Hawaiian Heritage Jewelry has brought the timeless legacy and beauty of Hawaiian jewelry and diamonds to the public. Our custom engraved products are a one of a kind piece of art to be handed down from generation to generation. Today, we are the largest Hawaiian jewelry manufacturer in the world. Everyone at Royal Hawaiian Heritage Jewelry is committed to perpetuating Hawaii's proud heritage by providing you the highest service and quality.
At Royal Hawaiian Heritage Jewelry, tradition lives on...